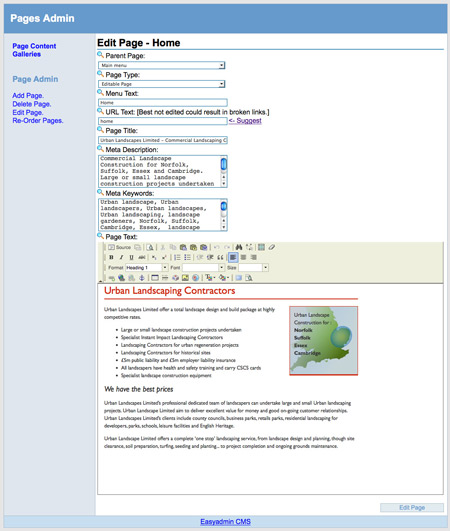 EasyAdmin CMS
Quickly and easily update your webpages using your own home or office computer!
EasyAdmin CMS - BASIC PACKAGE :
User control panel with secure username and password login.
Secure online access from any computer with an internet connection
Add, edit and delete text and images
Upload images and other files
Edit keyword and description meta tags
Hide / reveal webpages
Content management for up to 10 web pages
EasyAdmin CMS - EXTENDED PACKAGE :
As above plus:
Add or delete web pages
Content management for an unrestricted number of webpages.
EasyAdmin CMS - EXTRAS :
Online Photo Gallery Manager -
Catalogue Management Module - easily manage online databases of products
Online store locator
Onsite training
Other modules available including blogs, RSS feeds, banner ad managers and testimonials

Other customised modules can be designed to order. Please contact us.
EasyAdmin CMS - NEW MINI PACKAGE
User control panel with secure username and password login.
Secure online access from any computer with an internet connection
Add, edit and delete text and images
Upload images and other files
Content management for up to 5 web pages
Affordable pricing for clubs, community groups or new business start-ups